For over 28 years we have been providing engineering services for design-build commercial contractors. Our team works closely with architects, engineers and contractors in the design, planning and construction stages.
The DKE team has engineered hundreds of signs, billboards and similar commercial structures around the country.
Our specialty is concrete building construction. Through our affiliated company HK Composites, we have engineered over 70 million sq ft of concrete commercial construction around the world.
Concrete construction has become the building method of choice for many large-scale projects such as retail stores, schools, high density housing, office buildings, warehouses, and even residential homes.
Concrete is ideal for large projects due to reasonable cost, durability, and construction speed. And by adding a layer of insulation to create an insulated sandwich panel, buildings are designed to maximize the thermal mass effect of concrete and minimize thermal bridging. This results in a more cost-effective, energy efficient building.
Contact us and we'd be happy to discuss your project needs.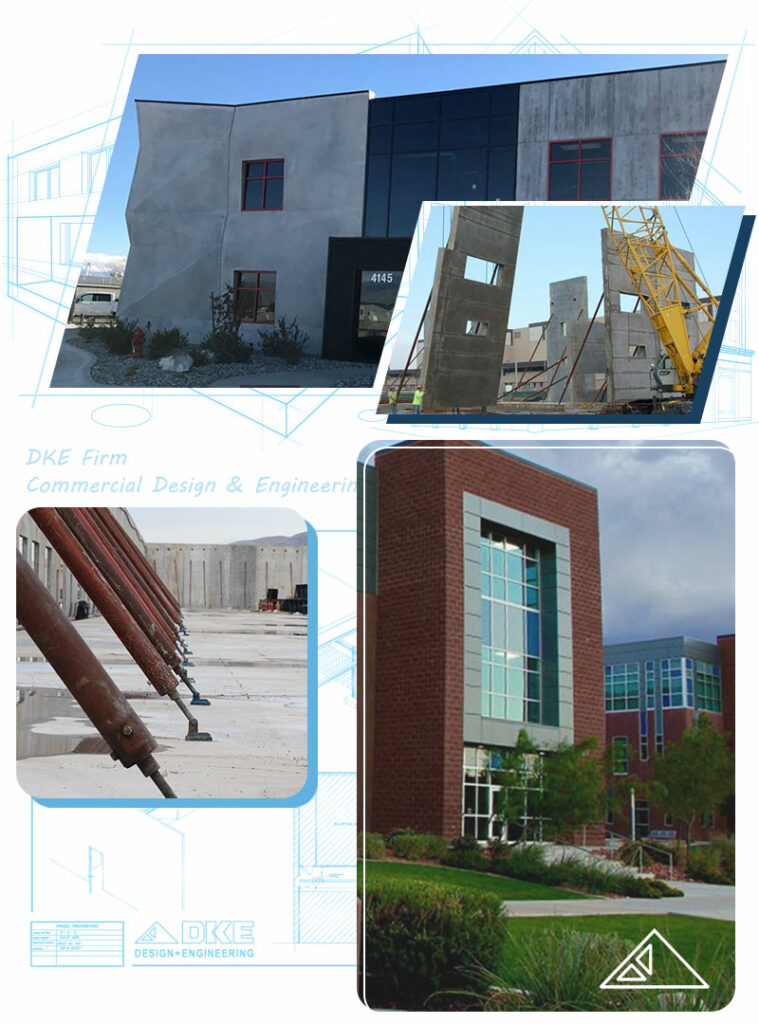 Commerical Services
Concrete Tilt-Up
Our full support team designs energy code compliant wall panels for cast-in-place tilt-up contractors. We provide panel designs and shop drawings complete with embedment, connector, anchor bolt and bracing specifications.
Precast Concrete
We work with hundreds of mass production precast contractors around the country to provide panel design and shop drawings for prestressed concrete panels.
Panel Lifting / Bracing
For all tilt-up and precast projects, we provide thorough panel lifting drawings including proper lift insert, clutch and anchor placements as well as testing certificates to indicate suitability of the system for the designated use.
Signs
Our design team and engineers have experience with blade signs, monument signs, pylon signs, monoliths, totem signs, channel letters signage, high-rise architectural signs, awnings and tension fabric structures.
Billboards
From your basic interstate advertising sign to a custom solution resembling sculptural art, we specialize in large pylon billboards.
Our full-service packages include the following options:
Structural drawings and details
Structural specifications
Reach out today to get a project quote and to schedule a kickoff meeting with our design team.
Testimonials
We've been working with DKE for nearly a decade. They are one of the few concrete engineering experts we rely on to provide us tilt-up shop drawings and calculations for our projects along the Wasatch Front. Their work is always accurate, reasonably priced and most importantly… they're very responsive! Everyone on the DKE team from their engineers to the owners are easy to work with and they respond quickly to phone calls and emails. We've been able to win jobs because of their ability to provide quick turn-around times.
— Mike Haslam, Tom Stuart Construction
DKE provides our affiliated company HK Composites with most of our precast and tilt-up shop drawings and calculations. Their expertise in providing accurate panel designs with lifting and bracing drawings is invaluable in helping us secure concrete construction jobs around the world.
If the architect makes adjustments during the construction phase, we're able to quickly send those change requests over to the engineers and they help us get things done right without slowing down the construction process.
— Jordan Keith, Vice President