From award-winning Parade of Homes to backyard decks and everything in between, DKE is an expert in residential design and engineering. With hundreds of home designs, additions, remodels and backyard projects under our belt, we're eager to take on your project.
We listen to your needs and thoughtfully work with your design concepts to get everything in just the right place to avoid mistakes and maximize functionality, while making it look great.
You don't have to sacrifice looks to get a cost-efficient result. We've been designing, engineering and drafting residential projects for the past 2 decades so we know how to help you navigate the construction process.
In addition to home design services, we provide complete structural engineering, land surveying and civil engineering in-house. We're your one-stop shop for your residential projects.
Whether you're building your dream "forever home", adding on a mother-in-law suite or simply sprucing up your backyard, we can give you an honest quote and guarantee we will pay attention to every detail with your project.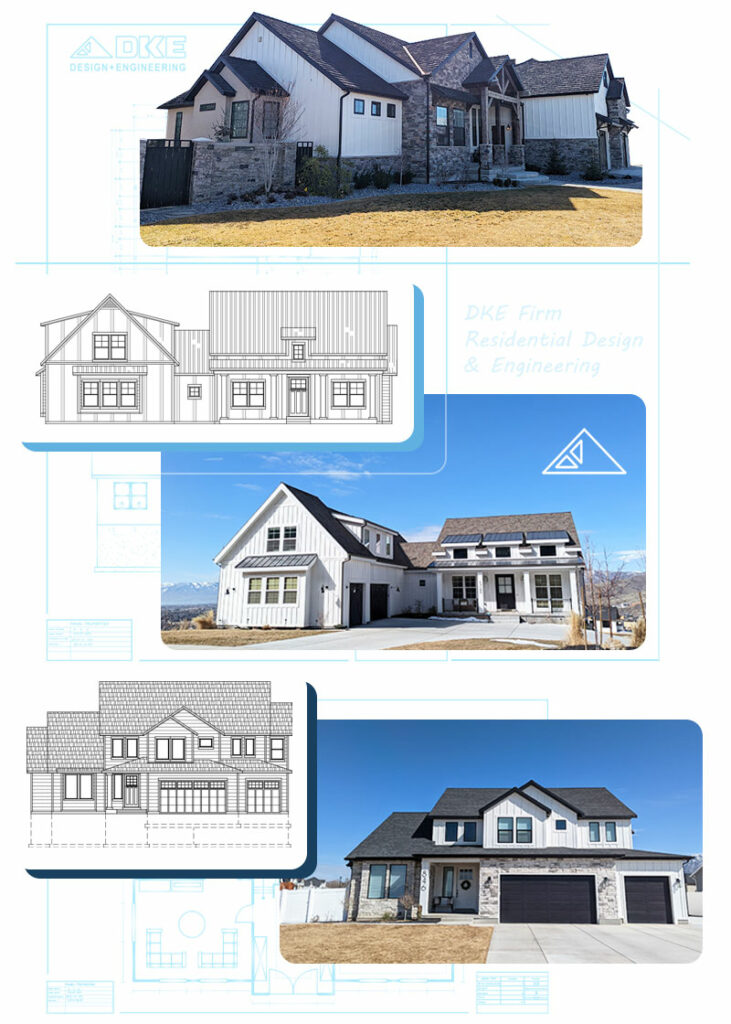 Residential Services
Custom Homes
We've worked on luxury $10 million+ custom homes. We've done tiny homes. Big or small, we specialize in designing your dream home.
Production Homes
We work with several prominent production home builders to rapidly personalize designs of their high performance developments.
Multi-Family Homes
Townhomes, duplex, tri-plex, 4-plex – we have the design and engineering expertise you need for your multi-family dwellings.
Additions
Whether you have a growing family, need the solitude of a quiet home office or visitors need a spare room to sleep in, we'll make the space work with your existing home design.
Remodels
Bathroom upgrades, new kitchen designs, or complete studs-out remodels, we have the experience and connections to help you complete your project within your timeline and budget.
Decks
We design and engineer decks and patios for new or existing homes. We understand local permitting requirements and modern design standards so we can complete your analysis or required load tests.
Outdoor Structures
We design and engineer all your typical backyard projects such as a gazebo, pergola, patio shade covering, and even large pavilions.
Retaining Walls
We engineer every wall with proper materials that look good and withstand pressure from the soil and load behind and above your wall. We're experts in code requirements.
Swimming Pools
We complete over 300 swimming pool designs and landscape water feature engineering projects every year. We know how to make your backyard the fun house!
Our full-service packages can include the following options:
Structural drawings and details
Structural specifications
Timeline
The basic steps we follow with each project for taking your project from design conception to engineering completion.
Read our frequently asked questions below for more information.
We send you a quote based on the project details.
Submit a request for your project quote here.
Meet with our qualified design team to review design criteria. Bring Pinterest boards, rough sketches, whatever you have!
We work with you every step of the process to make sure our work is aligned with your expectations.
Once you have signed off on design approvals, our engineering team takes on the fun part!
We provide you with the final engineering plans that are ready to submit to your local building department.
Reach out today to get a project quote and to schedule a kickoff meeting with our design team.
Frequently Asked Questions
If your question isn't answered below, don't hesitate to contact us.
What type of engineering services do you offer?
We provide structural engineering services for new construction, additions and remodels.
Those services range from building additions, modifying doors or windows, loft conversions, removing or altering internal walls, retaining walls, chimneys, decks, to new build custom homes.
How does pricing work?
While each project is a little different, we work diligently upfront to determine the project requirements and scope. That helps us determine what type of engineering service you need and which members of our team will be involved.
Pricing is generally based on the number of hours required to complete the project. The total number of hours depends on the size of the project, site visits, or extra services like drawing up engineering plans.
How soon can you get my plans back to me?
Timelines vary with each project depending on size and complexity of the building design as well as our team's availability for the type of services required.
When you request a project quote in the initial outreach, we ask questions to help us understand the project scope. We respond to every inquiry within 1-3 business days.
Can I use plans purchased on the internet?
Our design team would be happy to review any plans, photos, Pinterest boards, or other inspirational boards that you present during the design phase.
However, be advised that most plans purchased online lack local code and permit specifications. They also don't account for the size, shape or grade of your building lot.
It's like buying clothes without trying them on first… they might fit but there's rarely a one-size-fits-all scenario where online plans will be ready to stamp and approve with your local building code office without extensive customizations.
It's generally more efficient and less expensive to use online plans as design and layout inspiration rather than trying to revise them to work with your project.
What if I want to make changes after the plans are completed?
It's always best to triple check plans before submitting, but we understand there are many reasons why plans may change… construction budgets change, availability of building supplies fluctuates, or your vision changes as the walls start to go up.
Some changes are easier (and less expensive) than others. You can decide to go with a different roofing or siding material. Paint, flooring, window styles and plumbing fixtures are relatively common, simple changes.
But adding a new room, changing from wood to reinforced concrete, moving the building location on the lot, or even changing the size or shape of your windows can result in major revisions as the structural changes may require new design, engineering, drafting or building permit submittals.
Testimonials
The process of designing home plans and offering custom build options to 100's of different homebuyers is a difficult process to navigate. The DKE team helped simplify the process for us and our customers. They also helped speed-up turnaround time for plan draw and engineering, plan efficiency, and our home buyer satisfaction.
DKE took time to understand how we run our business, and tailored their services to help us. Their team has been fun and easy to work with and we consider them a top valued partner in the success of our business.
— Scott Dunn, Project Manager
We began working with DKE several months ago after experiencing errors, delays and other frustrations with previous drafters and architects.
The process with DKE has been night-and-day different. They respond quickly and their in-house staff is capable of processing the quick turn-arounds needed in all facets of the design process, from concept to engineering. We have also highly valued their expertise and knowledge of local statutes and permitting requirements, value-engineering, and more. We have tremendous appreciation and respect the entire team at DKE.
— Jacob Yamada, Owner & Co-Founder