We design, engineer and draft over 500 swimming pools, splash pads and water features every year, so we have the necessary aquatic engineering experience to help you turn that piece of land into the neighborhood hangout!
We offer design and structural engineering services for both residential and commercial customers. Everything from a backyard swimming pool to custom water features to city splash pads, we have expertise to help you avoid engineering and structural issues with your water project.
Need patio shade cover? What about a retaining wall? Or a splash pad for the kids? We can do all of that.
We deliver pool and water feature plans that are clear and easy to read so there's no guesswork for your contractor. The plans come with a set of drawings that are ready to submit to your local building code office for a permit.
We work with many reputable pool contractors in your area so we're happy to connect you with a contractor that can get started on your project right away.
Contact us now to get started with a free consultation with our design team.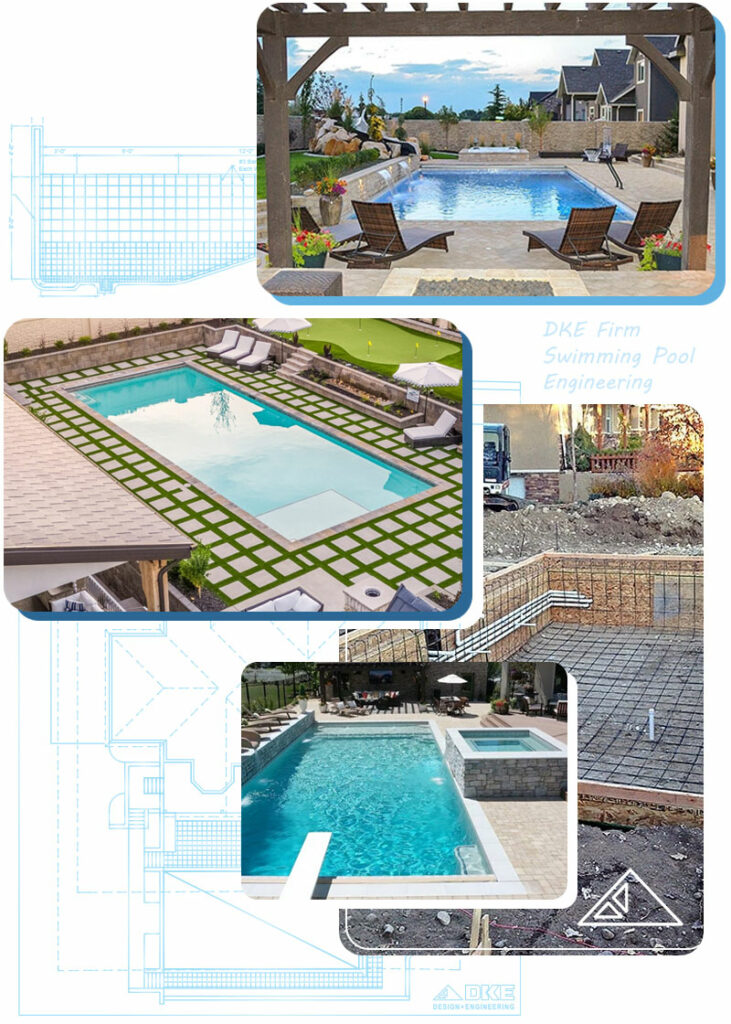 Swimming Pool Services
Residential Pools
We offer time-tested swimming pool plans that work for every budget. We also love working on custom design concepts. Let us help you make your backyard a dream oasis!
Commercial Pools
Whether for recreation, training or therapy, swimming pools have a multitude of design requirements. We assist with all the engineering aspects as well as civil design, site grading and drainage, parking, and engineering of additional office and support buildings.
Landscape Water Features
Artificial and natural rock features, caves and grottos, lazy rivers, structural shell design, mechanical system design, water features such as fountains and other custom pool designs.
Splash Pads
We provide all technical drawings, schematic specifications and professional engineering stamps necessary for permits, bids and construction of your splash pad play zone.
Water Parks
Our design and engineering brings together the numerous elements of pools, slides, rivers, and various interactive water features of a water park, whether it's for small parks or large-scale sites.
Retaining Walls
If the area for your desired pool is not flat you may need retaining wall plans to ensure that your pool is level. Our engineers work with you to make sure that you have the necessary retaining wall plans to accompany your swimming pool plans.
Our full-service packages include the following options:
Structural drawings and details
Structural specifications
Reach out today to get a project quote and to schedule a kickoff meeting with our design team.
Recent Projects
Here's a sample of our recent residential and commercial swimming pool projects.